Oh My Goodness… Is that four Wonder Women in the house?
This coming Tuesday Aug 2nd, at our monthly tweetup,

 we'll be joined by some ladies who know how to walk the walk and talk the talk. We're very proud to introduce you to 4 producers who are taking the British indie industry by storm…
Patricia Rybarczyk – Producer – Three Wise Monkeys
Patricia is a Producer and Production Manager, known for WE STILL KILL THE OLD WAY, THE LAST SEVEN and JACK FALLS.
Patricia currently runs production company Three Wise Monkeys with director Sacha Bennett who joined us at our last Tweetup event in July.
Jessie Mangum – Producer – Goalpost
Jessie is Production and Development Executive at Goalpost Film, Jessie has worked on the sales and marketing strategies for all of the company's projects including Rupert Wyatt's THE ESCAPIST, Michael Winterbottom's THE TRIP and THE TRIP TO ITALY, Wayne Blair's THE SAPPHIRES and Neil Armfield's HOLDING THE MAN.
At this year's Cannes Film Festival it was announced that Jessie will produce a feature called LOOTED as part of Film London's Microwave scheme. She'll be telling us more about that on the night.
Lucy Selwood – Producer – MoliFilms
Lucy joined the MoliFilms team in 2012 to help produce their third British feature film MONTANA. In 2014 Lucy produced her first feature film WRITER'S RETREAT, a horror movie filmed on Osea Island, which will be released later this year. She is currently working as Associate Producer on a number of projects including the comedy GOLDEN YEARS with Mark Foligno and another horror film FIRST BORN which was directed by Nirpal Boghal that will also release this year.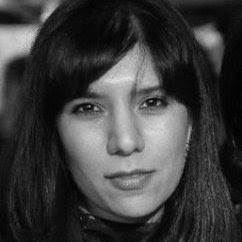 Rajita Shah – Producer – Miraj Films
Rajita started work as a producer for National Geographic and Discovery in New York. She won more than 15 awards for the 2007 documentary 4 KILOMETERS which was shot with Bedouin Tribes in the unrecognized villages in Negev, Israel.
Thereafter she worked with the UK Film Council Agency B3media as an in-house producer and produced several award winning films which were screened at BFI London Film Festival, East End Film Festival, Palm Spring Festival and Chicago Film Festival.
In 2011, Rajita produced feature film ZOHRA directed by Cannes and Venice award winning British director Barney Platts-Mills. It had its World Premiere at the 40th International Rotterdam Film Festival to critical acclaim.
Recently she was selected as one of the 6 upcoming producers in Europe by the MEDIA program SOS. She is currently financing her next feature film called LOVE SARAH which she'll tell us all about on Tuesday.
Our events wouldn't be the same unless we were at our favourite venue Gerry's Club, so sign up here for your £5 ticket.After the Q&A we'll be hosting our usual networking drinks which are FREE to attend.
FULL EVENT DETAILS:
Location:Gerry's Club
Address: 52 Dean Street, Soho, W1D 5BJ
Price: £5 plus booking fee
Date: Tuesday Aug 2nd
Time: 7pm – 8pm for the Q&A, 8pm onwards for networking drinks.
Eventbrite: Book your ticket here
Lots of love,
The A-Team